2 brown onion, finely diced
2 garlic cloves, chopped
2 carrots, finely diced
2 celery sticks, finely diced
100g pancetta, finely diced
4 x 400g tins chopped tomatoes
4 fresh bay leaves
1 sprig rosemary, finely chopped
1/4 bunch sage, finely chopped
150g chicken mince
150g pork mince
150g veal mince
1/2 cup white wine
3 tbsp extra virgin olive oil
Bechamel:
200g butter,
80g plain flour
2cups of milk
250g mozzarella, grated
150g parmigiano reggiano, grated
Sea salt
Black pepper
To make the Bechamel, melt down the butter. Whisk in the flour and stir until it bubbles. Add in your milk gradually, stir and season with salt and pepper.
In a heavy based large pot, add 3 tbsp of extra virgin olive oil and allow to heat. Add the onion, pancetta, carrot, celery, garlic and herbs and allow to fry off and allow the sofrito base to caramelise lightly and soften.  In batches, add in the mince in small amounts to ensure the meat browns off, not boils.  Once all the meat is browned off, deglaze with the wine and allow it to reduce by half.
Add the chopped tomatoes, and season with salt, freshly cracked black pepper and some freshly grated nutmeg, about 1/3 of the nut, turn the heat down to low and allow to bubble for 2 1/2 to 3 hours until thick, reduced and cooked out.
To assemble, line your baking dish with a small amount of the Bolognese to ensure the pasta doesn't stick to the tray.  Lay a sheet of blanched pasta down, generously cover with bolognese to ensure all corners are covered, then drizzle with béchamel cheese.  Alternate layers with either parmigiano cheese or the mozzarella cheese. Continue to layer the lasagna until the tray is full and you've used up all sauces.
Cover with foil and place into a preheated oven at 180c for about 35 minutes, then remove the foil and bake for another 10 to ensure the top goes crispy.  Allow the lasagna to sit for 10 minutes on the bench before cutting into it to ensure it holds its layers.
One of my fondest childhood memories was going to Nonna rosa's house on a Sunday for lunch, where lasagna was always on the menu.  Probably to this day, one of the best meals I've ever had. A very special recipe..
Our friends at Wine Selectors suggest pairing this dish with a Barbera.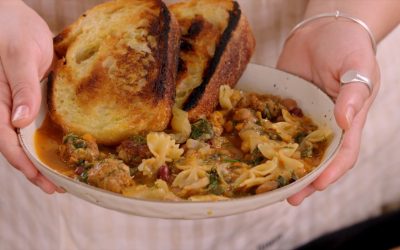 Ingredients: 4 Spicy Italian Sausages Packet of Farfalle Pasta 1 Leek 1 Carrot 1 Onion 2 Garlic 2 cups Shredded Cabbage 1 Chopped Silver Beet 1 400gm Tinned Beans 1 tsp Cumin powder 1 tsp Coriander  powder 1tsp Paprika powder 2 tbsp Tomato Paste Stock of your choice...