Mexican Rainbow Salad
Elena Duggan
400g/ 1can Black Beans, rinsed and drained
400g/ 1can, Corn kernels, drained (fresh corn can be grilled and charred if desired)
3-4 Jalapeño chilies, deseeded and finely sliced
1 punnet mixed colour cherry tomatoes, quartered
½ – 1 avocado, sliced
1 bunch coriander, leaves only
1 med Red onion, finely sliced
2 limes, cut into wedges
¼ iceberg lettuce, shredded
1 med carrot, shredded or julienned
50g EVOO, Australian
Dressing
75g Sour cream
5g smoked paprika
2 limes, juice and zest
Murray River salt, to taste
Optional
Sour cream can be replaced with coconut yoghurt for a dairy free or vegan alternative.
Corn to be left off if paleo.
Replace corn and carrot with cooked diced sweet potato for a lower fructose option.
When seasonal, fresh mango slice make a nice addition to this salad.
Mix dressing ingredients together to combine.
On a platter, layer lettuce, carrot, onion, black beans, corn, jalapenos and tomatoes. Try to spread out the ingredients so you can see the varieties of colours.
Fan out avocado on the side of the salad.
Dress the salad with the dressing and garnish with a handful of coriander on top.
Notes
Can be served with corn chips or tortillas if desired.
Fresh corn or prepared beans can be prepared and used if desired.
Tinned jalapeños can be used if drained and out of season or unavailable.
Gluten free
Grain free (leave off corn/ corn chips)
Nut free
Vegetarian
Vegan option
Paleo option
Low fructose/ sugar free option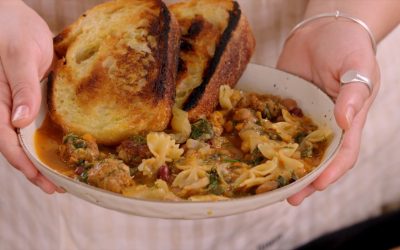 Ingredients: 4 Spicy Italian Sausages Packet of Farfalle Pasta 1 Leek 1 Carrot 1 Onion 2 Garlic 2 cups Shredded Cabbage 1 Chopped Silver Beet 1 400gm Tinned Beans 1 tsp Cumin powder 1 tsp Coriander  powder 1tsp Paprika powder 2 tbsp Tomato Paste Stock of your choice...