4 chicken thigh fillets, organic free range
1lge White onion, halved then finely sliced
4lge Eggs, organic free range
To Season / Sauce
150g Dashi
50g Ponzu (Obento)
50g Mirin (Obento)
50g Sake (Obento)
50g Tamari (Asian Inspirations)
25-50g Xylitol
To Serve
500g Cooked, Japanese short grain rice (Asian Inspirations)
Spring onions, finely sliced
Shichimi Togarashi, (seven spice) (Asian Inspirations)
Pickled ginger (Obento)
If available – Mitsuba, leaves only (Japanese parsley, similar to flat leaf parsley in flavour)
Mix all seasoning ingredients together in a small jug until thoroughly combined and dissolved, then set aside.
Crack and beat eggs into a small bowl, set aside.
Slice each chicken thigh into 6-8pieces, set aside.
Place onion in a medium size, non-stick frypan, and cover with half the seasoning, bring to a gentle simmer.  Place chicken pieces on top. Cook for 1-2minutes, before turning chicken pieces, then place a lid on and cook for a further 5-6 minutes. Remove lid, and turn chicken pieces again.
Whilst mixing, gently pour the eggs over the chicken and onion mix, in and around all the pieces, starting in the centre and working your way outward. Replace lid and cook for a further 2minutes, or until egg is just set. A small amount of jiggle is fine, cook to desired firmness.
Sprinkle over greens of choice and remove from heat.
Divide rice among bowls, and gently place portion on top of rice.
Serve with additional seasoning as desired, togarashi and pickled ginger.
Notes
This dish translates to Parent and Child Donburri (chicken and egg rice) and is a classic, comfort food dish in Japan.
One pan / pot – minimal clean up.
Common main ingredients, sauces easily sourced in Australian supermarkets.
No oil, light meal.
Ready in less than 30 minutes.
Gluten free
Refined sugar free and low fructose
Dairy free
Nut free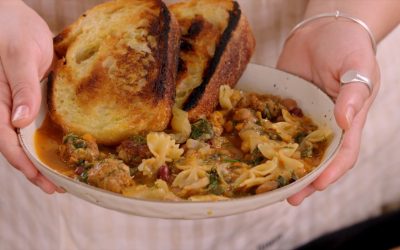 Ingredients: 4 Spicy Italian Sausages Packet of Farfalle Pasta 1 Leek 1 Carrot 1 Onion 2 Garlic 2 cups Shredded Cabbage 1 Chopped Silver Beet 1 400gm Tinned Beans 1 tsp Cumin powder 1 tsp Coriander  powder 1tsp Paprika powder 2 tbsp Tomato Paste Stock of your choice...