Palak Paneer
Kathy Tsaples
Serves: 2-4
2 long green chillies, roughly chopped
3cm piece ginger, peeled, roughly chopped
3 cloves garlic, peeled, roughly chopped
1 large red onion, roughly chopped
2 large ripe tomatoes, blitzed
200gm frozen spinach, thawed
2 tsp. coriander seed
2 tsp. cumin seed
1 tsp turmeric
1 tsp garam marsala
1 tsp chilli powder
60ml Light Olive oil
250ml liquid vegetable stock
200g Paneer, cut into 2cm cubes (Can be substituted for firm tofu or cauliflower florets)
In a mortar and pestle, combine coriander seeds and cumin seeds and pound to breakdown.
In a food processor combine chilli, ginger, garlic and red onion and blitz into a chunky paste.
Heat olive oil in a wok over high heat. Add pounded coriander and cumin seeds and fry off for approximately 1 minute until aromatic. Add chilli/onion paste and fry off, stirring continuously for approximately 5 minutes until slightly darkened in colour. Add tomato puree and powdered spices, stir to combine. Cook sauce down for a further 7-10 minutes until it deepens in colour and there is no longer any steam rising from the wok. Add thawed spinach, combine well and warm through.
Transfer sauce to a blender and add vegetable stock. Blitz on high to reach a smoother consistency.
Transfer back to wok over a medium-high heat. Add paneer and allow cheese to warm through, approximately 2-3 minutes.
Serve with cauliflower rice or steamed basmati.
Our friends at Wine Selectors suggest pairing this dish with a Grenache Shiraz Mataro.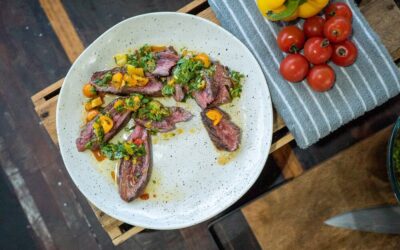 Ingredients: Serves: 4 800g Hanger Steak Sea Salt 1 small yellow pepper, seeds removed, roughly chopped 6 Yellow baby Tomatoes 1 small red chilli, seeds removed ½ tsp dried flaked chillies 2 Garlic cloves, peeled 20g fresh parsley, including any tender stalks 10g each...