Rainbow Pasta
Georgia Barnes
250g wholegrain spaghetti
4 tbsp extra virgin olive oil
3 cloves garlic, finely sliced
1 large bunch rainbow chard, roughly chopped
1/4 cup parsley, roughly chopped
1/2 lemon, juiced
1/4 cup pine nuts, toasted
50g parmesan, grated
Salt and pepper
Bring a large saucepan of water to boil. Season well with salt. Add spaghetti and cook for 10-11 minutes, or until 'al dente' as per packet instructions.
Meanwhile, place a large frypan over medium heat. Add oil. Sauté garlic. Add rainbow chard and cook for 1-2 minutes or until slightly wilted. Stir through parsley, lemon juice and pine nuts.
Add 1/4 cup of hot pasta water to the frypan.
Strain cooked spaghetti and add to sauce. Gently toss to combine.
Season to taste with salt and cracked black pepper.
Serve warm with grated parmesan.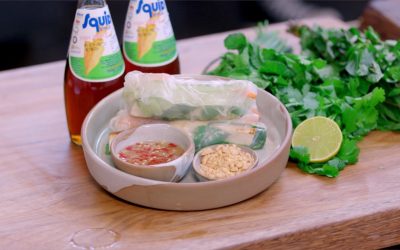 This recipe is brought to you by our friends at Asian InspirationsIngredients:Serves: 8 Prep Time: 10 mins Cook Time: 15 mins Main Ingredients: 1 packet rice paper 150g rice vermicelli noodles 1 bunch coriander 1 bunch Thai basil 1 bunch mint 1 bunch garlic chives 1⁄4...