Rocket, Pear and Parmesan
Elena Duggan
100g Rocket
250g Pear, cored, finely shaved or sliced using a mandolin
75g Parmesan, shaved
25g Lemon juice
50g EVOO, additional if desired
Black pepper, ground to taste
Salt, to taste
Toss all ingredients in large bowl and present in a generous pile to serve.
Grain Free
Gluten Free
Refined Sugar Free
Nut free
Ketogenic Friendly
BulletProof Friendly
Vegetarian
Pescatarian
Sugar Free – Low Fructose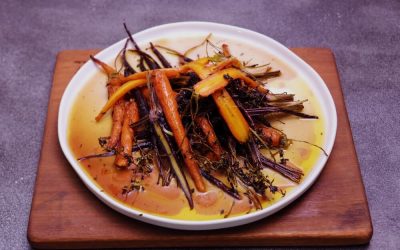 Join Elena Duggan as she creates her Honey Herbed Carrots recipe. Tune in to The Market kitchen each weekday on Channel 10.