Scrambled Eggs with Soda
Tobie Puttock
Serves 4
12 eggs, best quality you can afford
150ml sparkling water
2 tablespoons freshly grated
parmesan
Sea salt and freshly cracked pepper
20g butter
4 thick slices of sourdough, toasted/charred
Mix together the eggs, sparkling water, parmesan and a good pinch of salt and pepper. Whisk to combine.
Heat a large non stick pan over a high heat. When hot add the butter, as soon as the butter has melted add the eggs and remove the pan from heat. Use a wooden spoon to move the eggs around in the pan until they are set.
Serve with toasted sourdough.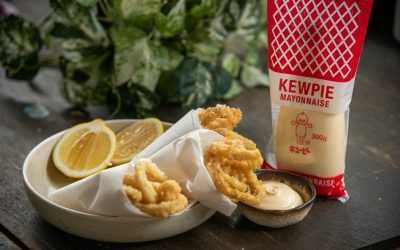 Ingredients: 1 tbsp sea salt flakes 1 tbsp cracked black pepper 8 cleaned squid tubes, thinly sliced Vegetable oil, for deep-frying 1 cup self-raising flour ½ cup mayonnaise Lemon wedges, to serve Method: Place the salt and pepper in a large bowl and mix to combine....