Slow Cooked Pork Belly
Chef Mod
Serves 2
2 tbsp oil
4 stem coriander roots, chopped
8 clove garlic, chopped
1 tsp white pepper
320g pork belly
4 hard boiled eggs, peeled
1pc juice from a real fresh coconut
200ml water
2 tbsp Lee Kum Kee Panda Brand Oyster Sauce
2 tbsp ABC Sweet Soy Sauce
2 tsp Squid Brand Fish Sauce
4 tsp Lee Kum Kee Premium Soy Sauce
4 baby carrots, peeled
4 broccolini
In a large pot, stir-fry the coriander roots, garlic and white pepper with oil on medium heat until fragrant.
Add all the remaining ingredients except baby carrot and broccolini and bring to boil.
Lower the heat, put a lid on and continue to cook for 45 minutes.
Add carrot and broccolini; continue to cook with the lid off for another 5 minutes.
Serve with steamed rice.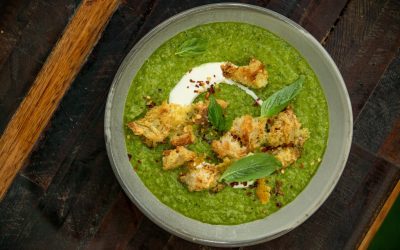 Ingredients: 2 heads broccoli 1 large leek, halved lengthwise, rinsed 2 tbsp extra virgin olive oil 1 head garlic, unpeeled 4 cups (1L) chicken or vegetable stock 120g baby spinach leaves 125g sour cream, plus extra to serve Chilli flakes & herbs, such as basil,...