Sticky BBQ Pork Belly
Chef Karen Chan
1.5kg Pork belly strips or ribs
Marinade
5 tbsp ABC Sweet Soy Sauce (Kecap Manis)
1 Lime (zested & juiced)
1 Red chilli (chopped)
20g Palm sugar
1 tsp Yeo's Pure Sesame oil
2 tsp Lemongrass (finely chopped)
1 tbsp Oil
Blend all the marinade ingredients in a large mortar and pestle or small food processor.
Place pork belly or ribs in a large plastic bag and pour in marinade, coating well.
Marinate the strips in the refrigerator for 1-2 hours or up to 24 hours.
Preheat the oven to 170°C. Place marinated pork onto a large baking dish and bake for 40 mins, turn & baste frequently.
Serve sticky pork with lime wedges, rice and salad.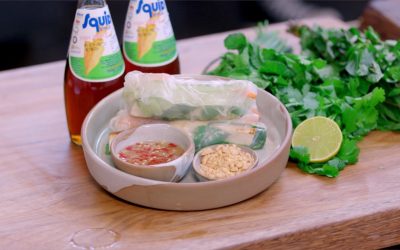 This recipe is brought to you by our friends at Asian InspirationsIngredients:Serves: 8 Prep Time: 10 mins Cook Time: 15 mins Main Ingredients: 1 packet rice paper 150g rice vermicelli noodles 1 bunch coriander 1 bunch Thai basil 1 bunch mint 1 bunch garlic chives 1⁄4...