Sweet Chilli Sauce
Elena Duggan
4 Red bullhorn chilies, roughly chopped
10 Long red/ Red serrano chilies, roughly chopped
10g Chili seeds, dried
50g Fish sauce
50g Apple cider vinegar
250g Water
50g Stevia (or Monk fruit)
50g White chia seeds
Place all ingredients except water into a food processor and blitz until a rough paste forms.
Transfer to a small pot, add water and simmer for 15 minutes or until the chilies are cooked through and soft.
Allow liquid to cool and thicken upon standing.
Transfer to a clean, sterilized jar and refrigerate up to four weeks.
Alternatively, place in ice cube trays and freeze small portions ready for use for up to four months.
Notes
Use as an accompaniment to many dishes, burgers, chips, eggs, etc.
Gluten free
Egg-free
Lactose free
Nut free
Vegetarian
Vegan
Low fructose/ low sugar
Paleo
FODMAP
Optional
Vegan / vegetarian option – leave out fish sauce, replace with salt and lime juice to taste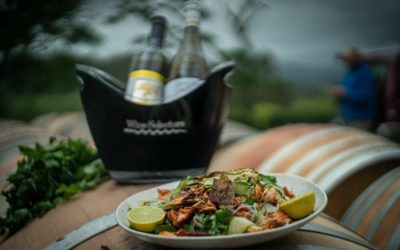 Ingredients: 100g glass noodles (bean thread vermicelli) 2 Lebanese cucumbers, thinly sliced using a vegetable peeler 4 spring onions, thinly sliced on diagonal 2 eschalots, thinly sliced 1 cup coriander sprigs 1 cup flat-leaf parsley sprigs 1-2 small red chillies,...