Sweet Tooth Salad with Green Beans
Jemma O'Hanlon
Serves 2
Salad
1/8 Australian Kent pumpkin, skin on
1 tsp Australian extra virgin olive oil
Pinch sea salt
Cracked black pepper
4 Australian Jerusalem artichokes
Handful Australian green beans
4 Australian prunes
¼ cup Australian pecans
2 tbsp goats cheese
2 cups Australian rocket
Dressing
1 tbsp honey
1 tbsp Australian extra virgin olive oil
Preheat the oven to 200°C.
Slice the pumpkin and artichokes and place onto an oven tray lined with baking paper.
Drizzle with olive oil and sprinkle with salt and pepper.
Place in the oven for about 30 minutes or until the veg are cooked and a little crispy around the edges.
Blanch the green beans in a pot of boiling water for about 3 minutes or until the colour becomes even more vibrant. Remove immediately and place in an ice bath to bring the temperature right now.
Slice prunes into quarters.
On a salad plate place pumpkin and Jerusalem artichokes. Top with green beans, rocket, prunes, pecans and sprinkle with goats cheese.
Heat honey in the microwave for about 20 seconds. Stir in olive oil, and using a spoon, drizzle the dressing over the salad. Enjoy.
Tip: This hearty salad can be served while the pumpkin is still warm. Omit the Jerusalem artichokes if you can't find them or use sliced Australian potatoes instead.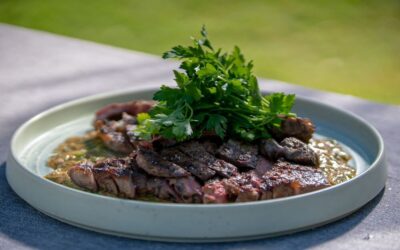 Ingredients: Serves: 2-4 2 x 250g T-bone or Rump steak Sea salt 2 Tbsp Olive oil 2 Tbsp Butter 1 brown onion, diced 2-3 cloves garlic, finely chopped 1 tsp dried chilli flakes 2 tsp dried mixed herbs 40 'twists' cracked black pepper 2 chicken stock cubes, crumbled 2-3...