Taiwanese Three Cup Chicken
Karen Chan
600g Chicken drumettes
15-20 cloves Garlic (peeled)
1pc Ginger (small, sliced)
1 cup Fresh Thai basil leaves
Seasoning Mix
1/3 cup Yeo's Light Soy Sauce
1/3 cup Rice wine
1/3 cup Yeo's Pure Sesame Oil
3tbsp Rock sugar
3pcs Bird's eye chillies (optional)
Heat oil in a large wok or clay pot, and then add garlic and ginger. Stir fry for about 1 min.
Add chicken and continue to cook the chicken on medium heat for about 10 mins until it is browned on all sides.
Stir in all the ingredients for the seasoning mix, and leave it simmer for 20 mins for the sauce to evaporate and thicken. The sauce should have a velvety coat around the chicken.
Add basil in and let it simmer for 2 min with the lid on.
Dish out and serve with a hot bowl of rice.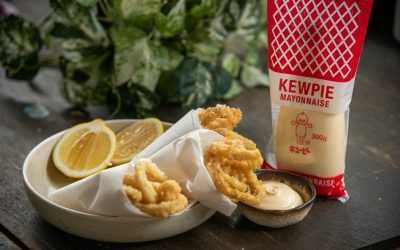 Ingredients: 1 tbsp sea salt flakes 1 tbsp cracked black pepper 8 cleaned squid tubes, thinly sliced Vegetable oil, for deep-frying 1 cup self-raising flour ½ cup mayonnaise Lemon wedges, to serve Method: Place the salt and pepper in a large bowl and mix to combine....