Thai Green Papaya Salad
Elena Duggan
3lge Green mangoes or papayas, shredded
3lge Nashi fruit, shredded/ julienned
200g Fresh or frozen coconut flesh, strips
1lge Asian shallot, finely sliced
1 Red banana chili, stripped/ julienned
6lge Kaffir lime leaves, finely shredded/ chiffonade
½ bunch Thai basil, leaves only
½ bunch Coriander, leaves only
Up to 50g Chili jam or sambal to serve, quantity/ heat as desired
50g Crispy fried shallots, to serve
Dressing
100g TCC Coconut milk
2 Limes, juice and zest, extra for presentation
20g Squid Fish sauce
1 long Red chili, deseeded, finely diced
Up to 50g Stevia, to taste
Optional
For vegetarian and vegan options, replace fish sauce with Murray River salt to taste.
To increase Keto option and good fats, you can include a sliced avocado in this recipe and include coconut oil in the dressing.
To create your dressing, thoroughly combine ingredients in a small jug, set aside to allow stevia to thoroughly dissolve. Mix once again before serving.
Presentation of this salad can be layered in order of ingredients list, or mixed thoroughly in a large bowl first before topping with fried shallots, chili jam and dressing.
Notes
This can be served as a side salad to accompany crispy fried whole fish, or Thai barbecue chicken, or grilled pork.
Shallow fried shredded Kaffir lime leaves provide another textural, fragrant and tasty option if you have time and inclination.
Gluten free
Grain free
Low Fructose / Minimal sugar
Keto Friendly, optional
Vegetarian, optional
Vegan, optional
Dairy free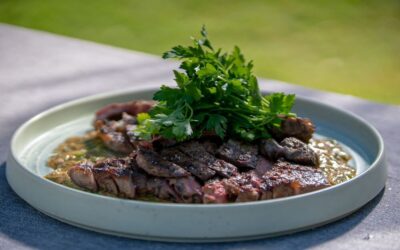 Ingredients: Serves: 2-4 2 x 250g T-bone or Rump steak Sea salt 2 Tbsp Olive oil 2 Tbsp Butter 1 brown onion, diced 2-3 cloves garlic, finely chopped 1 tsp dried chilli flakes 2 tsp dried mixed herbs 40 'twists' cracked black pepper 2 chicken stock cubes, crumbled 2-3...