Vietnamese Pancake (Banh Xeo)
Karen Chan
Serves: 6 pancakes
Recipe brought to you with the help of our friends at Asian Inspirations
Pancake
125g rice flour
750ml water
200ml TCC Premium Coconut Milk
1/2 tsp salt
1 tsp turmeric
3 spring onions (green part only, sliced)
Filling
1/2 cup split mung beans, soaked for at least 2 hrs
200g pork belly strip (thinly sliced)
18 pcs prawns (shell and entrails removed)
1/2 brown onion (thinly sliced) 1 tbsp Squid Brand Fish Sauce
Vegetables
500g bean sprouts
1/2 brown onion (thinly sliced)
1 cucumber strips
1 bunch Mint for garnish
1 bunch fresh coriander
Nuoc cham sauce
1 cup water
1/2 cup Squid Brand Fish Sauce
1/2 cup sugar
1/2 cup lemon juice
4 red chilies (finely chopped)
3 cloves garlic (finely chopped)
Add the rice flour, coconut milk, salt and water into a large mixing bowl. Whisk gently to combine. Add turmeric and spring onions. Allow to sit for 30-60 mins.
Combine nuoc cham sauce ingredients in a bowl. Stir through and set aside.
To Cook
Heat a 28cm non-stick pan over high heat. Add 3-4 pork belly strips, and few slices of onions. Then scatter 1 tbs mung beans across the pan.
After a minute, turn the pork belly over, place 3 prawns in the pan
Measure out half cup of batter and gently pour into the hot pan, while tilting the pan to swirl the batter to spread thinly. You should see bubbles forming on the surface.
After 2 minutes, heat still on high, trickle 1 tbs oil from around the side of the pan for the oil to flow onto the pancake sides and start to sizzle and crisp. Let it fry for 2-3 minutes. As you check under  the pancake, it should be a deep golden brown, light and crispy. If it isn't yet, leave it for another
Scatter a small handful of bean sprouts onto the pancake, and after a few seconds, gently fold the pancake over in half and slide onto a serving plate.
To serve, cut a small piece of the pancake with the fillings and place onto a lettuce leaf. Add mint and coriander, and roll it in half. Serve with the dipping sauce.
Our friends at Wine Selectors suggest pairing this dish with a Riesling.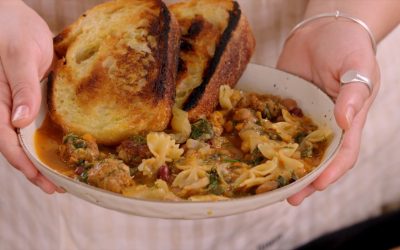 Ingredients: 4 Spicy Italian Sausages Packet of Farfalle Pasta 1 Leek 1 Carrot 1 Onion 2 Garlic 2 cups Shredded Cabbage 1 Chopped Silver Beet 1 400gm Tinned Beans 1 tsp Cumin powder 1 tsp Coriander  powder 1tsp Paprika powder 2 tbsp Tomato Paste Stock of your choice...