Anzac Biscuit Ice Cream Sandwich
Ben O'Donoghue
Preheat oven to 170C.
Scoop out ice cream into 6 round egg rings on a baking paper-lined tray. Place in the freezer for 2+ hours or overnight
Place the flour, oats, sugar and coconut in a large bowl and stir to combine.
In a small saucepan place the golden syrup and butter and stir over low heat until the butter has fully melted. Mix the bicarb soda with 1 1/2 tablespoons water and add to the golden syrup mixture. It will bubble whilst you are stirring together so remove from the heat.
Pour into the dry ingredients and mix together until fully combined. Roll tablespoonfuls of mixture into balls and place on baking trays lined with non stick baking paper, pressing down on the tops to flatten slightly.
Bake for 12 minutes or until golden brown. Wait to cool and sandwich ice cream between two biscuits and serve.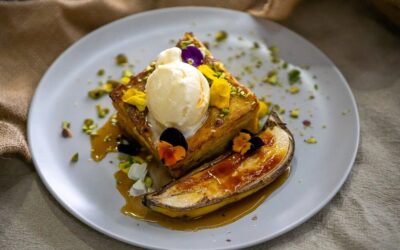 Ingredients: Serves: 4 ¼ cup Nutella 8 thick slices of brioche 3 eggs ¼ cup milk 1 vanilla bean, scraped 40g butter 2 lady finger bananas 2 Tablespoons caster sugar 160g unsalted butter ¼ cup pistachios, chopped ¼ cup maple syrup Edible flowers to garnish Ice cream to...