Basque Cheesecake
Matt Sinclair
Serves 6-8
430g cream cheese, room temperature

120g caster sugar

270ml thickened cream (at least 30% fat)

20g plain flour, sifted

3 eggs

1 Tbsp lemon juice

1 tsp vanilla extract

Pinch of salt (approx. 1/2-1 tsp)
Preheat oven to 220C fan forced/ 240C without fan. Line a 20cm loose-bottom cake tin with baking paper, also lining the sides.
Using a stand mixer with the paddle connection, mix the cream cheese and sugar together on the lowest speed until smooth. Add eggs 1 at a time and incorporating well after each one. Stop the mixer between each addition to scrape down the sides.
Meanwhile, add a small amount of cream together with the flour in a small bowl and whisk to remove any lumps. Add the remaining cream and whisk until smooth.
Add the cream mixture to the mixer and keep the speed on low. Add the lemon juice, vanilla and salt. Mix slowly until well combined, avoiding any aeration.
Pour into prepared cake tin and place in the oven for 30-35 minutes or until it wobbles like set custard (relatively firm but with a wobble in the centre). Be sure to turn the cake around at the halfway mark to ensure even colouring.
Remove and set aside to cool for at least 3 hours before removing it from the cake tin.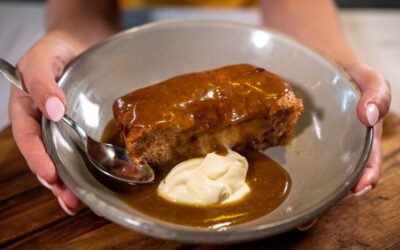 Ingredients: 185 g dates 1 cup water 60g butter 2 eggs 185g self raising flour 185g sugar 1tsp baking powder ½ tsp vanilla paste Butterscotch Sauce: 1 cup cream ¾ cup brown sugar 2 tbsp butter Pinch of salt Method: Bring the dates and water to a boil, then remove from...