Black Sesame Halva Cheesecake
Khanh Ong
250g sweet chocolate biscuits
125g butter melted
500g cream cheese, softened
2 tsp vanilla essence
600ml thickened cream
1/2 cup caster sugar
1 cup icing sugar
3/4 cup milk powder
To Serve:
Ground pistachios
Dried Rose petals
Raspberry coulis
Process biscuits until finely crushed. Add butter and mix well.
Press biscuit mixture into the base of a greased and lined 20 cm springform tin. Refrigerate for 15 minutes.
In stand mixer, beat the cream cheese, 4 tablespoons of the black sesame tahini, vanilla and caster sugar until smooth and creamy.
Add thickened cream and beat until batter becomes stiff. Pour into prepared tin, place prepared halva circle* on top and refrigerate overnight.
Halva:
To make the Halva, in a medium bowl mix together the remaining black sesame tahini, icing sugar and milk powder. knead for a few mins until a dough-like consistency forms. Roll out to 20cm diameter circle between two sheets of baking paper. Place in refrigerator to set (about 30mins).
Tip: make this first so it has enough time to set by the time you need to place it on top of your cheesecake.
To serve: spread a layer of ground pistachios on top of the cheesecake, and scatter rose petals. Remove from tin, slice and serve with raspberry coulis (if using).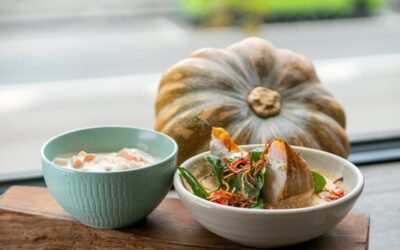 Ingredients: Serves: 2 Ingredients: 2x Wedges of Pumpkin (skin on) 1x can of coconut milk 30ml Soy Sauce (to taste) 1 tbsp of Tom Yum Paste 1 chilli, finely sliced 1 punch of Thai basil 1 tbsp fried shallots Bubur Cha Cha: Kara coconut cream 2litres Pandan leaves 6pcs...