Chocolate Plum Clafoutis
Jack Ingram
A little butter, for greasing your tray
5 tablespoons sugar for lining your tray
2 ripe Riverland plums sliced into wedges
For The Batter:
65g Blanched almond meal
20g Flour plain
160g Caster sugar
3 Whole free range eggs
4 Free range egg yolks
310g Pure cream
40g Cocoa powder
To Serve:
100g mascarpone
20g roasted and chopped hazelnuts
5 tablespoons Ligurian bee honey
Heat oven to 190C/fan. Butter a 23cm flan dish or tin (not loose-bottomed), then coat with the butter and sugar. Arrange the plums over the base.
Batter:
Whisk all the batter ingredients together until smooth, starting with the eggs and cream then adding the sugar and dry ingredients. pour it over the fruits filling the tray by 2/3, bake for 20-25 mins until risen and golden brown.
To Serve:
To serve sprinkle your roasted hazelnuts on top followed by a generous spoon of mascarpone, finally finish by drizzling your honey. Serve warm straight from the oven.
Our friends at Wine Selectors suggest pairing this dish with a Sparkling red.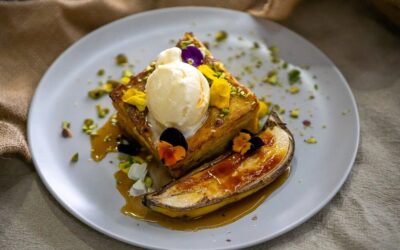 Ingredients: Serves: 4 ¼ cup Nutella 8 thick slices of brioche 3 eggs ¼ cup milk 1 vanilla bean, scraped 40g butter 2 lady finger bananas 2 Tablespoons caster sugar 160g unsalted butter ¼ cup pistachios, chopped ¼ cup maple syrup Edible flowers to garnish Ice cream to...