Coconut Caramel
Ben O'Donoghue
500g palm sugar light
1lt coconut cream
100mls water
Place the palm sugar and water into a medium-size pot and bring the water to a boil. Break up the palm sugar as it softens and melts. Then boil until the mixture begins to caramelize about 160 degrees. Use a thermometer to check
Once the sugar has reach 160 degrees add the coconut cream whisking to incorporate. Allow the caramel sauce to simmer until all the sugar has dissolved and thicken.
I like to jar the sauce and use when I need it… Like now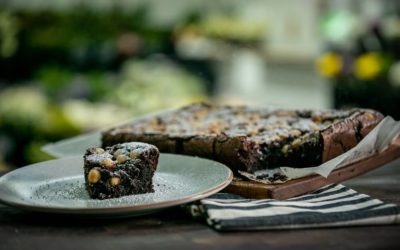 Ingredients: Makes 28 portions 12 eggs 800gm 900gm caster sugar 675gm 68% Madagascar chocolate 675gm-unsalted butter 225gm ground macadamia meal 225gm cocoa powder 300gm macadamia nuts Method: Preheat oven to 150 degrees Grease and line sponge tray with parchment...