Coconut Caramel
Ben O'Donoghue
500g palm sugar light
1lt coconut cream
100mls water
Place the palm sugar and water into a medium-size pot and bring the water to a boil. Break up the palm sugar as it softens and melts. Then boil until the mixture begins to caramelize about 160 degrees. Use a thermometer to check
Once the sugar has reach 160 degrees add the coconut cream whisking to incorporate. Allow the caramel sauce to simmer until all the sugar has dissolved and thicken.
I like to jar the sauce and use when I need it… Like now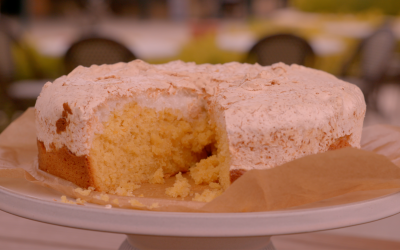 Ingredients:BASE 3 Egg Yolks 1/2 cup Caster Sugar 125g soft butter 2 cups Self-Raising flour 1 cup orange juice Vanilla   TOPPING 3 egg whites 1/2 cup caster sugar 1 cup desiccated coconut Method: Beat butter and sugar until creamy. Add yolks and vanilla. Fold in the...