Sticky Date Pudding
Laura Sharrad
185 g dates
1 cup water
60g butter
2 eggs
185g self raising flour
185g sugar
1tsp baking powder
½ tsp vanilla paste
Butterscotch Sauce:
1 cup cream
¾ cup brown sugar
2 tbsp butter
Pinch of salt
Bring the dates and water to a boil, then remove from heat and blitz until smooth. Cool.
Heat oven to 180c.  Line a 18cm cake tin.  Beat butter and sugar, then slowly add in the eggs.  Fold in the date puree, flour, baking powder and vanilla.  Bake in the oven for 30-40 minutes
Butterscotch Sauce:
Meanwhile to make the butterscotch sauce, melt together the cream, butter and brown sugar.  Add a tsp of salt flakes
Serve pudding whilst hot with lots of butterscotch sauce.
Our friends at Wine Selectors suggest pairing this dish with a Liqueur Tawny.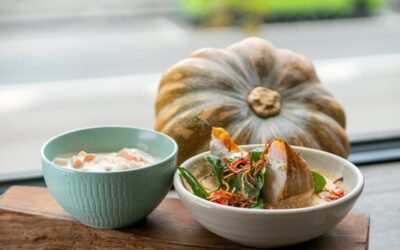 Ingredients: Serves: 2 Ingredients: 2x Wedges of Pumpkin (skin on) 1x can of coconut milk 30ml Soy Sauce (to taste) 1 tbsp of Tom Yum Paste 1 chilli, finely sliced 1 punch of Thai basil 1 tbsp fried shallots Bubur Cha Cha: Kara coconut cream 2litres Pandan leaves 6pcs...