Tiramisu Self Saucing Pudding
Elena Duggan
2 cups flour
1⁄3 cup cocoa powder
1 tbsp instant coffee
1⁄4 cup caster sugar
1 tsp dried yeast
1 egg
2/3 cup warm milk
60g soften butter
20 cubes of milk chocolate
1 1⁄2 cup of boiling water
1⁄2 cup of brown sugar
1 tbsp instant coffee
dusting of icing sugar
250ml mascarpone
Combine flour, cocoa, coffee, sugar and yeast in a mixer. Then add egg, milk and butter and knead on low for 1 minute. then neak for 5 minutes until a soft dough forms.
Move to a lightly oiled bowl and cover with oiled plastic wrap and leave to rise in a warm place for an hour.
Remove and knead on a lightly floured surface for 2 minutes.
Divide into 20 balls and press ball out to form little rounds and place a cube of chocolate and roll into a ball again.
Place the balls into a greased deep baking dish and repeat with all balls.
Now set aside to rise again for another 20 minutes.
Combine boiling water, brown sugar and instant coffee then gently pour over the bake of a spoon over the dough so it doesn't make holes in them
Place into an oven at 160C fan force for 35-45 minutes.
Serve with a dusting of icing sugar and mascarpone.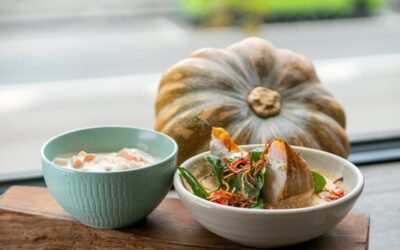 Ingredients: Serves: 2 Ingredients: 2x Wedges of Pumpkin (skin on) 1x can of coconut milk 30ml Soy Sauce (to taste) 1 tbsp of Tom Yum Paste 1 chilli, finely sliced 1 punch of Thai basil 1 tbsp fried shallots Bubur Cha Cha: Kara coconut cream 2litres Pandan leaves 6pcs...