Walnut Stuffed Figs and Cheats Salted Caramel
Khanh Ong
4 large figs 250g
25g roasted walnuts chopped
60g ricotta
Salted Caramel
1 tbsp caster sugar
80ml cream
30g butter
75g brown sugar
1⁄2 tsp salt
Cut the figs from top to 3⁄4 way down into quarters ad place on a line oven tray.
Combine nuts, cheese and half the sugar and stuff the figs.
Sprinkle leftover sugar over the figs.
Roast the figs at 200C fan-force for 8-12 minutes
Set aside for serving
Combine the remaining ingredients in a saucepan over high heat until sugar is dissolved and for a further 5 minutes.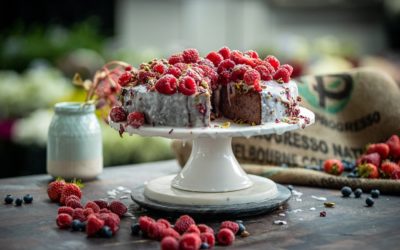 Ingredients: Cake 200g Fresh or frozen raspberries 12 eggs 500g Caster sugar 500g Almond Meal, plus extra 2tsp baking powder ¼ tsp salt Icing 2 cups icing sugar 2 tbsp lemon juice, strained Garnish 2tbsp Rose petals 2tbsp Pistachios Handful of fresh raspberries...