Yoghurt Chia Pudding with Vanilla Blackberries
Elena Duggan
Pudding
250g Milk
250g Jalna Greek Yoghurt
100g Chia Seeds
1tsp Vanilla paste or 1 Vanilla Bean, seeds only
50g Honey optional
Toppings
250g Blackberries, fresh or frozen gently stewed in 50g water, 1tsp Vanilla paste or 1 Vanilla Bean, seeds only, 25g honey, until water has evaporated and berries are starting to collapse
Shredded or toasted flaked coconut
Slivered Almonds
Place all pudding ingredients in an airtight jar allowing at least 2cm gap from the top.
Mix thoroughly, and refrigerate.
Pudding should be edible after 3hours, but it has an even better result overnight.
Serve a portion of the pudding, with a portion of vanilla blackberries and top as desired with seasonal nuts, fruit, seeds.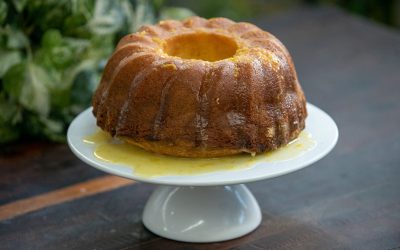 Ingredients: 300 g dairy-free margarine 300 g gluten-free plain flour , plus extra for dusting 300 g golden caster sugar 4 large free-range eggs 3 lemons 2 oranges 2 teaspoons gluten-free baking powder ½ teaspoon xanthan gum 100 g icing sugar Method: Preheat the oven...