Yoghurt & Strawberry Bread
Khanh Ong
1⁄2 cup caster sugar
1⁄4 cup brown sugar
1 egg
1⁄2 cup Jalna Greek yoghurt
1⁄2 cup of buttermilk
1⁄3 cup of melted coconut oil
1 tsp vanilla paste
2 cups flour
1 tsp baking soda pinch of salt
250g strawberries
Mix cream, sugar and egg together in stand mixer.
Add in the greek yoghurt, buttermilk, coconut oil and vanilla paste. Combine well.
In a large bowl whisk flour, baking soda and salt.
Slowly pour the wet ingredients into the dry ingredients until there was no lumps.
Chopped 200g of strawberries roughly and fold into the batter.
Pour into a greased baking tin and top the batter with 50g of halved strawberries.
Bake for 45mins at 180C then cover with foil and bake for another 15 minutes until a skewer comes out clean.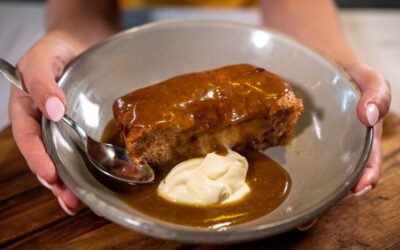 Ingredients: 185 g dates 1 cup water 60g butter 2 eggs 185g self raising flour 185g sugar 1tsp baking powder ½ tsp vanilla paste Butterscotch Sauce: 1 cup cream ¾ cup brown sugar 2 tbsp butter Pinch of salt Method: Bring the dates and water to a boil, then remove from...