Almond Brownie Bliss Balls
Jemma O'Hanlon
Makes 12
¾ cup Australian almonds
1/3 cup rolled oats
2 tbsp cacao powder
½ tsp vanilla extract
12 medjool dates
3 tbsp cacao nibs
1 tbsp Australian almond oil
In a food processor blend ¼ cup of the almonds until they are crushed lightly but not over blended. Store separately (this will be used to roll the balls in).
In the food processor add the remaining almonds, oats, dates (pits removed), cacao and vanilla extract, and blend for about 30 seconds or until mixture comes together.
Add the cacao nibs and almond oil and process briefly.
Form into bite-sized balls and roll each ball in the crushed almond mixture. Refrigerate prior to serving.
Tip: These are the perfect after school snack for hungry kids, and big kids!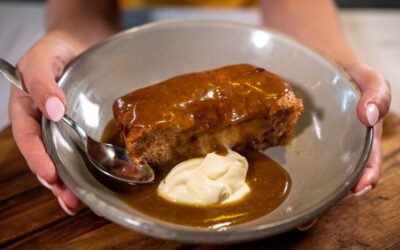 Ingredients: 185 g dates 1 cup water 60g butter 2 eggs 185g self raising flour 185g sugar 1tsp baking powder ½ tsp vanilla paste Butterscotch Sauce: 1 cup cream ¾ cup brown sugar 2 tbsp butter Pinch of salt Method: Bring the dates and water to a boil, then remove from...