Baked Cheesecake
Elena Duggan
100g Almond Meal
50g Hazelnut Meal
25g Flax meal
10g Psyllium Husk
50g Coconut Flour / 100g Buckwheat Flour
50g Stevia
½ tsp Cinnamon
½ tsp Ginger
125g Butter
Pinch Murray River salt
500g Ricotta or Cream Cheese
250g Mascarpone
75g Stevia
2 Vanilla beans, seeds only (reserve pods for liquid infusion)
5 lge eggs
Optional
This also works by adding 125g blueberries to the surface, but may require a further 5-10 minutes cooking time.
Preheat oven to 160° Celsius, fan forced.
Combine all dry ingredients and butter in a food processor and pulse until it resembles coarse wet sand.
Press mixture into a well greased and lined springform pan to form and even height and slightly up the sides.
Bake base at 160° Celsius for 12-15 minutes, or until slightly golden and fragrant.
Remove form oven and allow cooling at room temp.
Beat cream cheese and mascarpone until aerated and billowy.
Reduce speed and sprinkle in stevia and vanilla seeds and beat until well combined.
Place one egg in at a time while beating until just combined. Set aside batter.
Once base is cool, pour cheese batter into tin all over base and gently tap the tin to release any air bubbles.
Reduce oven to 150° Celsius and bake cheesecake for 40 minutes, reduce heat to 125° Celsius and cook for a further 30 minutes. Remove and allow cooling before refrigerating and later serving.
Notes
If your oven has known hot spots or you're noticing cheesecake surface is turning golden unevenly, feel free to rotate it throughout the cook.
Gluten free
Grain free
Low Fructose / Minimal sugar
Keto Friendly
Vegetarian
Pescatarian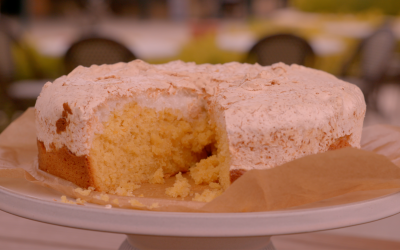 Ingredients:BASE 3 Egg Yolks 1/2 cup Caster Sugar 125g soft butter 2 cups Self-Raising flour 1 cup orange juice Vanilla   TOPPING 3 egg whites 1/2 cup caster sugar 1 cup desiccated coconut Method: Beat butter and sugar until creamy. Add yolks and vanilla. Fold in the...