Banana Pancakes
Elena Duggan
2 medium bananas, mashed
4 medium eggs, separate
100g green banana flour
50g ghee, melted
¼ tsp cinnamon
½ tsp vanilla paste
50g ghee for frying, additional for serving
Additional banana for serving
In a med bowl, beat the egg whites until medium peaks.
In another bowl (or food processor), beat all other ingredients until thoroughly combined.
Gently fold through the egg whites, maintaining as much aeration as possible.
Heat the ghee in a heavy based non-stick fry pan to a medium heat.
Scoop batter into rounds in the non-stick fry pan. Wait until bubbles form before flipping over and cooking reverse side. Cooking will take up to three minutes first side; up to two minutes reverse side. Cook in batches of three or however many fit comfortably in your pan until complete.
Serve with freshly sliced or brûléed banana, and/or whipped cream/ ice cream if desired.
Health Notes:
Gluten free
Grain free
Moderate Fructose / zero refined sugar
Keto Friendly
Vegetarian
Pescatarian
Fun Facts on Banana:
Green Bananas
high resistant starch
greater satiety
a source of prebiotics
Yellow Bananas
Sweeter
Digests quicker
Higher antioxidant levels
Brown Bananas
Super sweet
Greatest vitamin mineral loss
Highest antioxidant levels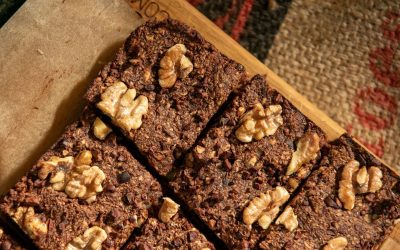 This recipe is brought to you with the help of our friends at JC's Quality Foods Ingredients: 1 ½ cups raw cashews 1 ½ desiccated coconut 3 medium ripe bananas, peeled and chopped 10 fresh dates, pitted 2 tsp vanilla extract ⅓ cup raw cacao powder ½ tsp bicarbonate of...