Black Rice, Yuzu & Black Sesame Tarts
Elena Duggan
3 Black rice gluten free wraps
50g Butter, melted (if not using a non-stick pan)
Yuzu Curd
125g Yuzu juice (store bought in bottle is fine from your Asian grocer)
125 Caster Sugar
1lge egg
3lge egg yolks
175g Butter, room temperature
Black Sesame Crumble Ingredients
250g Black sesame
75g Butter
50g Caster sugar
25g Buckwheat flour
1tsp salt
Vanilla Cream
300ml Thickened cream
50g Caster sugar
1vanilla pod, seeds only
Substitute
Bottled yuzu juice is a perfect substitute for fresh, which can be challenging to find if you don't have access to an Japanese ingredient stockist.
Mandarin juice is a great substitute if no access to yuzu.
Preheat oven to 150° Celcius, fan forced.
For the tart shells, cut six even circles from each rice wrap with a cookie cutter. Soak circles in melted butter for up to five minutes, this will soften them. Gently press each circle into place in the cups of a 12-muffin tray and bake for 10-12minutes. Remove from oven and allow cooling and crisping.
For the yuzu curd, place ingredients into a microwave safe bowl; thoroughly combine with a whisk as best as possible.
Place in the microwave on high for one minute, before removing and thoroughly whisking. Repeat cooking for one minute at a time, then whisking thoroughly until thick, glossy and voluminous – depending on the power of your microwave may take 5-10 total minutes. Remove from all heat and whisk until cool.
For the crumble, blitz the sesame seeds in a dry jug blender until about half way between whole completely broken. Add butter, sugar, buckwheat and salt, blitz until a coarse wet sand texture.
Lay crumble out on a lined baking tray and bake for up to 30minutes on turning every ten minutes. You're aiming for even toasting but no significant browning. Remove from oven and allow cooling. Once cool, break up with a fork so texture is fairly small and consistent.
For the cream, whip cream until soft peaks, add vanilla, and then sugar one tbsp. at a time until thoroughly combined and medium to firm peaks are formed.
Allow an hour or so for the tarts, curd and crumb to cool.
To serve, place, tart shells on platter, then distribute yuzu curd evenly amongst either piping or spooning, then cream, the sprinkle over desired amount of crumble to serve.
Waste Tips
You can save any unused crumble in an airtight container for up to two weeks.
Any unused curd can be kept in an airtight container for 1-2 weeks.
Gluten Free
Grain Free
Refined Sugar Free
Dairy Free, optional
Vegetarian
Vegan, optional
Pescatarian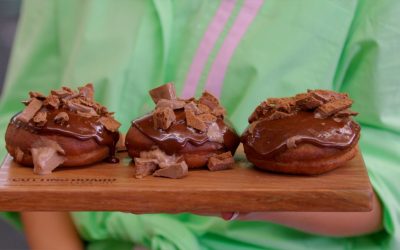 Ingredients: 7 gm (1 sachet) dried yeast 360 gm plain flour 55 gm (¼ cup) caster sugar 150 ml lukewarm milk 40 gm softened butter 1 egg 250 gm milk chocolate, finely chopped 190 gm crème fraîche 70 ml pouring cream For deep-frying: vegetable oil 3-4 Tim Tams, coarsely...