Caraway Cake
Simone Austin
6 scoops Ensure Vanilla powder
1/2 cup milk
125g butter
¾ cup caster sugar
2 eggs
1 ¼ self-raising flour
¼ cup custard powder
2 tablespoons caraway seeds
Grease a 14cm x 21cm loaf pan, line base and sides with paper and grease.
Beat butter, sugar, eggs, Ensure Vanilla powder, custard powder and sifted flour in a small bowl with electric mixer on low speed until combined, add ½ cup milk and beat for a few minutes on high.
Stir in caraway seeds. Spread mixture into prepared pan and bake in a moderately low oven on 160 degrees Celsius for about 50 minutes to 1 hour.
Stand for 5 minutes before turning on to wire rack to cool.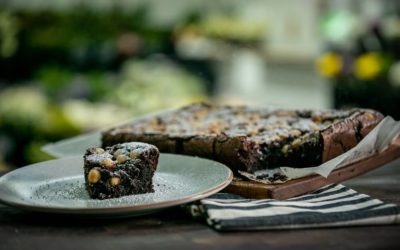 Ingredients: Makes 28 portions 12 eggs 800gm 900gm caster sugar 675gm 68% Madagascar chocolate 675gm-unsalted butter 225gm ground macadamia meal 225gm cocoa powder 300gm macadamia nuts Method: Preheat oven to 150 degrees Grease and line sponge tray with parchment...