Cherry Clafoutis
Elena Duggan
5 Eggs
100g Almond meal
250g Cream
100g Stevia monkfruit combination
50g Butter, unsalted
2tsp vanilla paste/ 2 vanilla beans seeds scraped
1 Lemon, zest only
25g Tapioca/ arrowroot flour
Pinch salt, Murray River pink
250-400g Cherries, pitted, fresh if in season, frozen if not in season
Whipped cream to serve.
Preheat oven to 160° Celsius, fan forced.
Grease round or rectangular baking dish with butter.
In a large bowl, beat stevia monkfruit and butter until pale and creamy.
Add eggs one at a time and combine well, reduce speed and add cream, vanilla, zest and beat until combined.
Fold through almond meal, tapioca flour, and salt until just combined.
Scatter cherries all over the bottom of the baking dish, leave some gaps between cherries and spread evenly.
Gently spoon and pour batter over cherries evenly, tap baking dish on bench to release any air bubbles.
Bake for 35-45minutes or until batter just stops jiggling.
Serve warm or cool with cream or vanilla ice cream.
Gluten free
Grain free
Low Fructose / Minimal sugar
Keto Friendly
Vegetarian
Pescatarian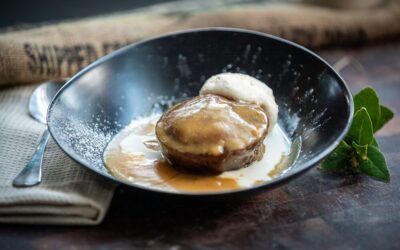 Ingredients: Makes 12 200g fresh or dried pitted dates, roughly chopped 300ml boiling water 1 teaspoon bicarbonate of soda (baking soda) 150g (2/3 cup) sugar 50g butter 2 eggs 1 teaspoon natural vanilla extract 170g plain (all-purpose) flour 2 teaspoons baking powder...