Easter Bread Scrolls
Laucke Flour
500g Laucke Spelt Mix
4g Dried Yeast (supplied)
1 Egg
50g Sugar (white or brown)
50g Butter (Softened)
250g or 200g Water (50 g less if using a mixer or by hand or removing the dough from the breadmaker)
2ml Egg yellow colour if desired.
500g Dry Fruit (optional)
Combine the mix, yeast and water in the breadmaker bowl in the order preferred by the manufacturer or into the bowl of a mixer with the dough hook attached. If the dough is not being baked in the bread maker or is being mixed by hand reduce the water by 50mls.
If mixing by hand it may take 10 – 15 minutes to achieve a nice smooth well-developed dough.
If mixing by a benchtop mixer you should mix until you have a smooth shiny dough which will leave the sides of the bowl very clean. If your mixer is capable you can use a medium to high speed.
If using the dried fruit add to the breadmaker 10 minutes before the end of mixing otherwise mix in on slow speed or mix in by hand until evenly distributed. Also, remember to leave 50 ml water out if not baking in the breadmaker.
When the dough is mixed, tip it onto a floured surface and divide the dough into 80g pieces if leaving plain or 100 g if fruited. Shape them as you wish, and place on papered or greased trays leaving sufficient space for them to rise. If making a loaf, shape to the length of the pre-oiled pan, and place the dough it. Gently flattening and rolling the dough up will provide a better loaf.
Find a warm place to allow the braids, buns or loaf to rise and keep them covered. Or uncovered in your oven (not turned on) with a baking dish full of boiled water is also a very good proofer.
Allow the dough to almost double in size and then either gently brush or spray with the prepared egg glaze.
Turn oven on to 180°C. If the oven is slow to heat up allow 10 minutes otherwise place tray/s in the oven.
Bake for approximately 15 – 25 minutes to the desired colour. A loaf will take 35 – 40 minutes.
Glaze
Thoroughly combine one egg and 50 ml milk and set aside.
Notes
This dough can be formed and baked many different ways using different tins, moulds and even free form or plaits. 
This complete dough would be suitable for baking in a large bread pan but would need to be baked for 45 – 50 minutes.
The best way to tell if the product is baked is to look for an even golden colour. It may be necessary to turn the trays in the oven to get even browning. If the baking times vary from what is suggested it probably means your oven temperatures are not correct.
For an added effect after baking, brush the tops with melted butter.
For chef quality results, we recommend using Anolon cookware!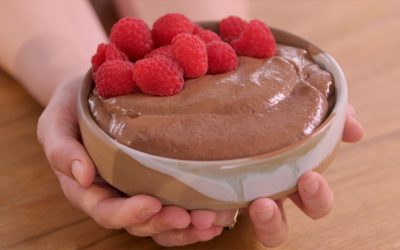 Ingredients: Plant-based milk Chia seeds Cacao powder Maple syrup Vanilla extract or paste Method: Combine all of the ingredients in a high-speed blender and blend until smooth. If you prefer to eat the seeds whole, you can skip the blender and combine the ingredients...