Sticky Date Pudding
Elena Duggan
250g Pitted Dates
250g Boiling Water
100g Buckwheat Flour
200g Almond Meal
25g Raw Cacao Powder
1 tsp Vanilla/ vanilla bean, seeds scraped
1 tsp BiCarb Soda
150g Coconut Oil
100g Sugar free dark chocolate, stevia sweetened, roughly chopped
4 eggs, lightly beaten
200g Buttermilk
Sauce:
400ml (1 can) coconut Milk
100g Pitted Dates
1 tsp Vanilla / whole vanilla bean, seeds scraped
Preheat to 180°Celsius, fan forced.
Grease round ceramic baking dish.
Pour boiling water over dates in a bowl, allow time to soften, then drain and finely dice.
Put all pudding ingredients into a bowl and stir until thoroughly combined.
Pour batter into baking dish and bake at 180°Celsius for 30 minutes or until a skewer comes out clean.
While baking, prepare the sauce by heating all ingredients in a small pot on the stovetop. Once just simmering remove from heat and blitz with a stick blender until thick and caramel in colour.
Pass through a sieve if you want an extra smooth sauce.
Remove pudding from oven and poke holes using a skewer all over the top down to the bottom.
While still warm pour about half of the sauce mixture over the top gently so as to fill all the holes created.
Serve with extra sauce.
Grain Free
Gluten Free
Refined Sugar Free
Dairy Free, optional – swap buttermilk for coconut milk
Paleo Friendly
Ketogenic Friendly
BulletProof Friendly
Pescatarian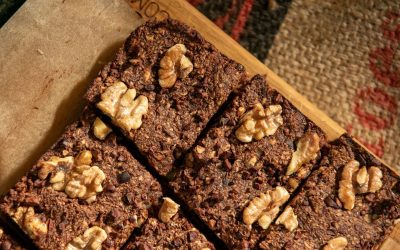 This recipe is brought to you with the help of our friends at JC's Quality Foods Ingredients: 1 ½ cups raw cashews 1 ½ desiccated coconut 3 medium ripe bananas, peeled and chopped 10 fresh dates, pitted 2 tsp vanilla extract ⅓ cup raw cacao powder ½ tsp bicarbonate of...