Ginger and Cardomon Syrup
Tobie Puttock
200g fresh ginger, roughly chopped
1/2 cup of lime juice
10 cardamom pods
100g coconut sugar
750ml of water
Put all of the ingredients into a small saucepan, bring to a simmer for 20 to 30 minutes or until the ginger has softened. Allow to steep for a further ten minutes and strain.
To assemble spoon desired amount of syrup into glass along with ice and sparkling water.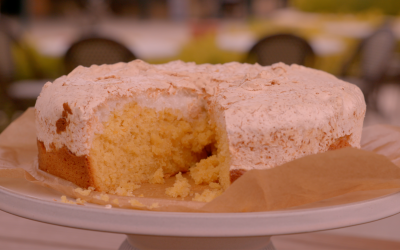 Ingredients:BASE 3 Egg Yolks 1/2 cup Caster Sugar 125g soft butter 2 cups Self-Raising flour 1 cup orange juice Vanilla   TOPPING 3 egg whites 1/2 cup caster sugar 1 cup desiccated coconut Method: Beat butter and sugar until creamy. Add yolks and vanilla. Fold in the...