Ginger Beer Margarita
Tobie Puttock
Serves 2
60ml tequila
1 Lime, halved
SodaStream Ginger Beer Syrup
SodaStream Carbonated Water
Ice
Lime slices for garnish
Line the glasses with lime juice and salt.
Add crushed ice to the serving glasses followed by tequila, SodaStream ginger beer and a squeeze of lime juice and serve right away.
For chef quality results, we recommend using Anolon cookware!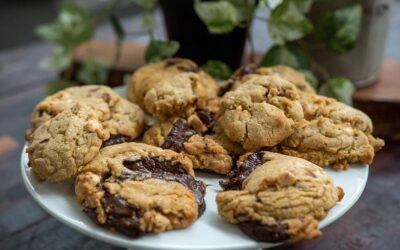 Ingredients: 250g Plain Flour 250g Bread flour 1 tsp baking powder 1 tsp sea salt 125g Butter, unsalted 125g Light brown sugar 125g Caster Sugar 1 large Egg 1 tsp vanilla extract 100g Dark chocolate block 100g White chocolate chips Method: Preheat oven to 180 degrees...