Gluten Free Banana Bread
Khanh Ong
110g of dates chopped
100ml hot water
1 tsp of bicarb
3 large eggs room temperature
2 large over ripe bananas mashed
¼ cup honey
¼ cup almond milk
2 scoops of vanilla protein powder
2 cups of almond meal
2 tsp baking soda
⅓ cup chopped walnuts
1 tsp cinnamon
2 tsp ground ginger
a pinch of salt
1 banana, halved lengthways (for garnish)
Preheat oven to 180c
Mix dates, hot water and bicarb in a large mixing bowl for 10 minutes.
Add all the wet ingredients and whisk well. combine all the dry ingredients into another large mixing bowl and whisk together. Add the wet ingredients into the dry ingredients and mix well.
Pour into a loaf tin and place banana into the batter. Bake for 40-50 minutes. Checking every 5 minutes from 40 minutes until a knife comes out clean.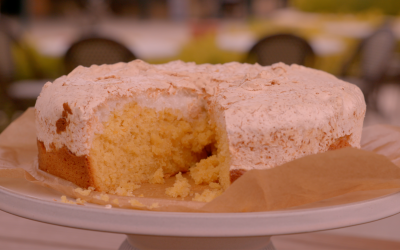 Ingredients:BASE 3 Egg Yolks 1/2 cup Caster Sugar 125g soft butter 2 cups Self-Raising flour 1 cup orange juice Vanilla   TOPPING 3 egg whites 1/2 cup caster sugar 1 cup desiccated coconut Method: Beat butter and sugar until creamy. Add yolks and vanilla. Fold in the...