Mango Chia Pudding with Pineapple and Mint
Georgia Barnes
1/3 cup Chia seeds
400 mls Coconut milk
3-5 tablespoons Pure maple syrup
1 tablespoon Pure vanilla extract
3 large Mangoes, peeled and diced
1 tablespoon Lime juice
1/4 Pineapple, peeled and diced
1 tablespoon Mint leaves or micro mint
Freeze dried pineapple, optional
Mix chia seeds, coconut milk, maple syrup and vanilla together in a mixing jug. Pour into 4 serving glasses or jars. Place in refrigerator to set for 15-20 minutes.
Meanwhile, purée 2 of the mangoes with the lime juice in a food processor until smooth. Evenly pour over chia mixture.
To serve, mix together remaining mango, pineapple and mint. Place a generous spoonful of pineapple mixture on top of the purée. Serve chilled.
Note. Chia and mango purée can be prepared the day before.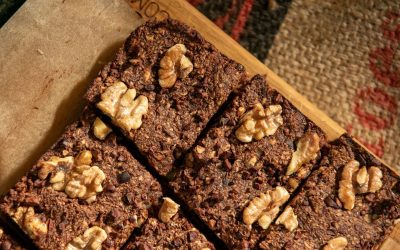 This recipe is brought to you with the help of our friends at JC's Quality Foods Ingredients: 1 ½ cups raw cashews 1 ½ desiccated coconut 3 medium ripe bananas, peeled and chopped 10 fresh dates, pitted 2 tsp vanilla extract ⅓ cup raw cacao powder ½ tsp bicarbonate of...