Mango Chia Pudding with Pineapple and Mint
Georgia Barnes
1/3 cup Chia seeds
400 mls Coconut milk
3-5 tablespoons Pure maple syrup
1 tablespoon Pure vanilla extract
3 large Mangoes, peeled and diced
1 tablespoon Lime juice
1/4 Pineapple, peeled and diced
1 tablespoon Mint leaves or micro mint
Freeze dried pineapple, optional
Mix chia seeds, coconut milk, maple syrup and vanilla together in a mixing jug. Pour into 4 serving glasses or jars. Place in refrigerator to set for 15-20 minutes.
Meanwhile, purée 2 of the mangoes with the lime juice in a food processor until smooth. Evenly pour over chia mixture.
To serve, mix together remaining mango, pineapple and mint. Place a generous spoonful of pineapple mixture on top of the purée. Serve chilled.
Note. Chia and mango purée can be prepared the day before.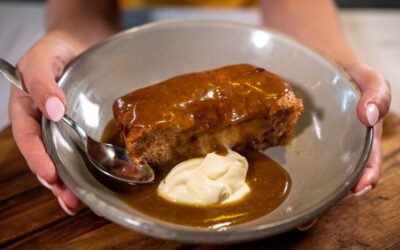 Ingredients: 185 g dates 1 cup water 60g butter 2 eggs 185g self raising flour 185g sugar 1tsp baking powder ½ tsp vanilla paste Butterscotch Sauce: 1 cup cream ¾ cup brown sugar 2 tbsp butter Pinch of salt Method: Bring the dates and water to a boil, then remove from...