Mexi-Brownies
Elena Duggan
400g GF Sugar Free chocolate, chunks/ pieces
150g Butter
6med-lge Eggs, lightly beaten
100g Raw Cacao powder
300g Almond flour/meal
100g Stevia (or Monkfruit)
1tsp Salt
1tsp Xantham gum
2tsp Vanilla
1tsp Cayenne pepper
3tsp Cinnamon
Optional
100g Walnuts, diced
100g Raspberries
Preheat oven to 150° Celsius fan forced.
Line and grease a slice tin.
In a large bowl, combine all dry ingredients.
In a microwave friendly bowl or over a double boiler, melt butter and chocolate together until quite a loose liquid.
Mix chocolate and butter mixture through dry ingredients, add eggs and thoroughly but gently combine.
Pour batter into tin. If batter is a little stubborn, push gently into corners and tap tin on bench to ensure even depth and square edges.
Bake for 30-40minutes or until firm and surface is starting to crack.
Allow brownies to cool for at least 30 minutes, before turning out and slicing into generous bite size pieces.
Brownies last well in an airtight container and refrigerated.
Notes
If your oven has known hot spots or you're noticing the brownie surface is browning unevenly, feel free to rotate it throughout the cook.
Brownies crumbled over a split banana, served with sugar free ice-cream make for a satisfying and healthier dessert alternative.
Optional
This also works by adding 100g raspberries to the surface, but may require a further 5-10minutes cooking time.
If you prefer your brownies nuttier, stir through 100g walnuts before pouring batter into tin.
Gluten free
Grain free
Low Fructose / Minimal sugar
Keto Friendly
Vegetarian
Pescatarian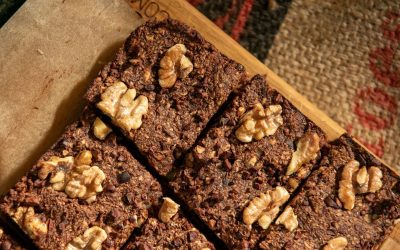 This recipe is brought to you with the help of our friends at JC's Quality Foods Ingredients: 1 ½ cups raw cashews 1 ½ desiccated coconut 3 medium ripe bananas, peeled and chopped 10 fresh dates, pitted 2 tsp vanilla extract ⅓ cup raw cacao powder ½ tsp bicarbonate of...