Serves 10
1 cup Glucerna powder
1.2 kg tinned peaches, drained
2 tbsp. water
½ tsp. cinnamon
1 tsp. allspice
2 tbsp. brown sugar
Zest from 1 lemon
1 egg yolk, lightly beaten
2 sheets frozen rolled shortcrust pastry, thawed
Preheat oven to 180°C.
Combine peaches cinnamon, Glucerna powder, cinnamon, allspice, lemon zest, water and 1 tbsp. brown sugar in a saucepan and cook over low-medium heat. Cook and cover for 5 minutes and stir occasionally. Remove from heat and allow to cool.
Line a 20cm pie dish with 1 sheet of pastry. Trim any excess pastry.
Spoon the peach mixture over the base and brush the edges of the pastry with the egg yolk.
Place the second sheet of pastry over the top of the filling and seal edges with a fork. Brush with remaining egg yolk and sprinkle remaining sugar over the top.
Place in oven and bake for 25 minutes.
Cover with foil for a further 15 minutes or until golden brown.
Set aside to cool.
Serve with Greek yoghurt or ice cream.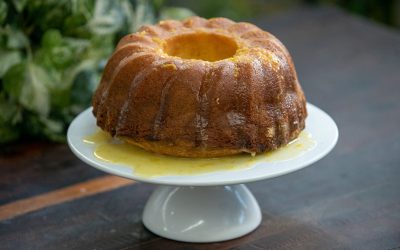 Ingredients: 300 g dairy-free margarine 300 g gluten-free plain flour , plus extra for dusting 300 g golden caster sugar 4 large free-range eggs 3 lemons 2 oranges 2 teaspoons gluten-free baking powder ½ teaspoon xanthan gum 100 g icing sugar Method: Preheat the oven...