Ravani - Moist Semolina Cake
Kathy Tsaples
1 cup semolina
1 cup almonds, blanched, toasted and roughly chopped
2 cups self raising flour, sifted
2 tsp baking powder
Rind of 1 lemon
6 eggs
250g butter at room temp
Juice of 2 oranges
2 tbsp cognac or brandy
1 cup of caster. Sugar
Shredded coconut as garnish
Syrup
1 wedge of lemon
3 ½ cups water
3 cups sugar
Preheat your oven to 175 ̊C.
Make the syrup by bringing the sugar, water and lemon wedge to a boil, then simmering for 10 minutes. Take the syrup off the heat and cool down completely.
To begin making the cake, cream the butter with the sugar using the paddle-wheel attachment of the electric mixer. Add the eggs one at a time, then the lemon rind.
Reduce the mixer's speed and add the orange juice and cognac.
Combine the semolina and the baking powder. Slowly add the self-raising flour to the mixing bowl, followed by the combined semolina and baking powder.
Mix in the almonds.
Thoroughly butter and flour a square cake tin, then pour in the mixture.
Bake for approximately 45 minutes.
Once the cake is ready, take it out of the oven and pour the cold syrup over the hot cake. Cover with a tea towel for about an hour, allowing the cake to soak up the syrup.
Cut into squares and garnish by sprinkling shredded coconut on top.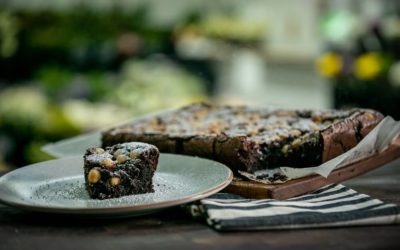 Ingredients: Makes 28 portions 12 eggs 800gm 900gm caster sugar 675gm 68% Madagascar chocolate 675gm-unsalted butter 225gm ground macadamia meal 225gm cocoa powder 300gm macadamia nuts Method: Preheat oven to 150 degrees Grease and line sponge tray with parchment...