Scones with Strawberry Jam
Kay-Lene Tan
555g Flour
137g Sugar
200g Butter (Cold)
25g Baking powder
139g Cream
3 Eggs
150g Dried fruit
Salt
Strawberry and Thyme Jam
1kg Fresh strawberries
600g Sucrose
1 bunch Thyme
85g Lemon juice
Mix flour, sugar, butter, and baking powder together with hook until the mixture resembles bread crumbs
Gradually add in the cream and eggs
Add in dried fruit and be sure not to overmix
Roll flat between two sheets of baking paper, and chill before cutting into desired shapes
Freeze before baking
Egg wash. Bake at 155°c for about 10 minutes, or until golden brown
Strawberry and Thyme Jam
Weigh ingredients into a large pot, and cook until the mixture thickens.
Leave a plate in the freezer to test the jam.
Cool completely before serving.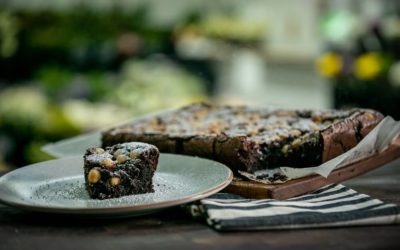 Ingredients: Makes 28 portions 12 eggs 800gm 900gm caster sugar 675gm 68% Madagascar chocolate 675gm-unsalted butter 225gm ground macadamia meal 225gm cocoa powder 300gm macadamia nuts Method: Preheat oven to 150 degrees Grease and line sponge tray with parchment...