The Red Fizz
Tobie Puttock
Serves 2
60g frozen berries
1 teaspoon coconut sugar
1/2 lemon, juiced
4-6 freshly picked mint leaves
1 vanilla pod, split
Approx 500ml Sparkling water
Ice
Pop the frozen berries, coconut sugar, lemon juice, mint and the vanilla bean into a small pot over a low heat and cook until the berries begin to collapse. You can use a spoon to crush the berries in the pot to help them along a little bit.
Once broken down remove the vanilla pod and set aside
Pour the remaining contents through a sieve into a bowl pushing as much as possible through the sieve with the spoon, use a small knife to scrape out the vanilla pod and add to the puree berry mixture.
During Winter most berries are super expensive and this can be a great time to use frozen berries which are not necessarily a lesser ingredient than fresh.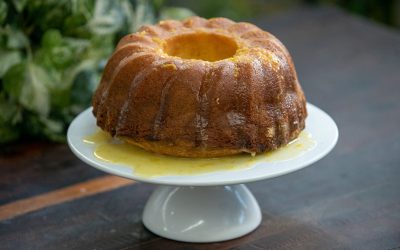 Ingredients: 300 g dairy-free margarine 300 g gluten-free plain flour , plus extra for dusting 300 g golden caster sugar 4 large free-range eggs 3 lemons 2 oranges 2 teaspoons gluten-free baking powder ½ teaspoon xanthan gum 100 g icing sugar Method: Preheat the oven...