Thumb Print Cookies
Elena Duggan
125g Butter, grass-fed unsalted
75g Honey, raw and organic
2.5g /1tsp / Vanilla paste, or 1vanilla bean
150g Almond meal
50g Coconut flour
1lge Egg
25g Water (optional, as needed)
150g Chia Jam
Preheat fan forced oven to 160° Celsius.
Using a stand mixer or electric beater, beat together the butter, honey, and vanilla on medium, until smooth and fluffy.
Reduce the mixer to low speed, and slowly add the almond and coconut flours and mix just until incorporated. Remove bowl from stand.
Shape the mix into 2-3cm balls.
Place the dough balls on your baking trays with gaps between each.
Gently press the centre of the dough balls using your thumb, with even indentations into all cookies. Have a small bowl of water on hand to wet your thumb between cookies if dough is sticking.
Beat egg and brush all cookies generously to promote a glossy golden surface on the baked cookies.
Bake the cookies for 15 to 20 minutes, or until lightly golden.
Place cookies on a wire rack and let cool completely.
Place small dollops of your chia jam in the indentation to serve.
Grain free
Gluten free
Refined sugar free, low fructose
Dairy free optional – utilise coconut oil
Vegetarian
Vegan, optional, replace butter with coconut oil, honey with stevia, leave egg out
Pescatarian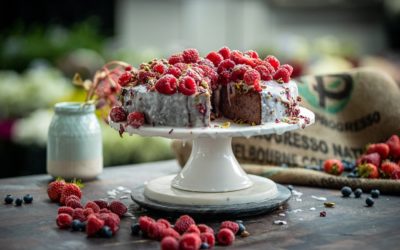 Ingredients: Cake 200g Fresh or frozen raspberries 12 eggs 500g Caster sugar 500g Almond Meal, plus extra 2tsp baking powder ¼ tsp salt Icing 2 cups icing sugar 2 tbsp lemon juice, strained Garnish 2tbsp Rose petals 2tbsp Pistachios Handful of fresh raspberries...