Pumpkin Persian Love Cake
Elena Duggan
500g Pumpkin, chopped then roasted at 180 degrees Celsius for 75 minutes with:
1 tsp Cinnamon Ground
½ tsp nutmeg
1 tbsp Olive Oil
Pinch of Salt (yields approx. 400g)
250g Demerara Sugar
250g Butter, unsalted
250g Almond Meal
250g Jalna Greek Yoghurt, extra for serving
1 tsp Baking Powder
50g Rosewater
1 Vanilla Bean, seeds scraped
4 Eggs
100g Pistachios, shelled and roughly chopped
25g Edible Rose Petals, as garnish
Serving Suggestion
Preheat to 160°, fan forced.
Combine butter, sugar and almond meal together in a bowl.
Press approximately 1/3 of mixture into a lined and large, flat, greased cake tin.
Mix cooled pumpkin, yoghurt, baking powder, rosewater, vanilla and eggs into the remaining 2/3 of mixture. The batter is quite moist, so don't be alarmed.
Pour into same cake tin; sprinkle half of the pistachios to cover the top of the cake.
Bake for 75 minutes or until a skewer comes out clean, allow cooling.
Garnish with remaining pistachios and rose petals. Serve with Greek yoghurt.
Grain Free
Gluten Free
Vegetarian
Pescatarian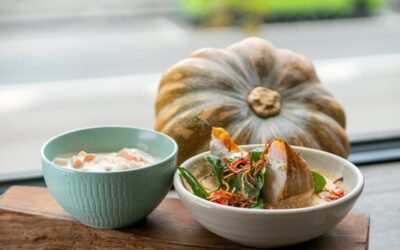 Ingredients: Serves: 2 Ingredients: 2x Wedges of Pumpkin (skin on) 1x can of coconut milk 30ml Soy Sauce (to taste) 1 tbsp of Tom Yum Paste 1 chilli, finely sliced 1 punch of Thai basil 1 tbsp fried shallots Bubur Cha Cha: Kara coconut cream 2litres Pandan leaves 6pcs...