Pumpkin Persian Love Cake
Elena Duggan
500g Pumpkin, chopped then roasted at 180 degrees Celsius for 75 minutes with:
1 tsp Cinnamon Ground
½ tsp nutmeg
1 tbsp Olive Oil
Pinch of Salt (yields approx. 400g)
250g Demerara Sugar
250g Butter, unsalted
250g Almond Meal
250g Jalna Greek Yoghurt, extra for serving
1 tsp Baking Powder
50g Rosewater
1 Vanilla Bean, seeds scraped
4 Eggs
100g Pistachios, shelled and roughly chopped
25g Edible Rose Petals, as garnish
Serving Suggestion
Preheat to 160°, fan forced.
Combine butter, sugar and almond meal together in a bowl.
Press approximately 1/3 of mixture into a lined and large, flat, greased cake tin.
Mix cooled pumpkin, yoghurt, baking powder, rosewater, vanilla and eggs into the remaining 2/3 of mixture. The batter is quite moist, so don't be alarmed.
Pour into same cake tin; sprinkle half of the pistachios to cover the top of the cake.
Bake for 75 minutes or until a skewer comes out clean, allow cooling.
Garnish with remaining pistachios and rose petals. Serve with Greek yoghurt.
Grain Free
Gluten Free
Vegetarian
Pescatarian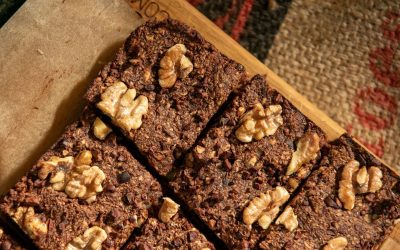 This recipe is brought to you with the help of our friends at JC's Quality Foods Ingredients: 1 ½ cups raw cashews 1 ½ desiccated coconut 3 medium ripe bananas, peeled and chopped 10 fresh dates, pitted 2 tsp vanilla extract ⅓ cup raw cacao powder ½ tsp bicarbonate of...