Spinach and Ricotta Parcels
Simone Austin
1kg fresh ricotta
3 eggs
1 brown onion
½ tsp nutmeg
10 scoops Glucerna Powder
250g frozen spinach
1 tablespoon extra virgin olive oil
6 slices thin ham or bacon
2 teaspoons fresh oregano
Black pepper
Puff pastry- 8 sheets
½ cup tasty cheese
4 tablespoons grated parmesan cheese
1 teaspoon sweet Hungarian paprika
Sesame seeds
Preheat the oven to 210 degrees Celsius.
Dice the onion finely. Chop the bacon or ham into small pieces.
Heat the oil in a pan and when warm fry the onion and bacon until golden brown. Cool slightly.
In a mixing bowl add all the other ingredients apart from the pastry.
Add the onion and bacon mixture and stir until combined.
Take one sheet of puff pastry at a time and place 1/8th of the mixture into each sheet. Fold up into a parcel, moistening the edges of the pastry with water to stick together as they are folded. Brush lightly with water and sprinkle with sesame seeds on top.
Back in a hot oven, 210 degrees Celsius until the pastry has puffed and turned golden brown. Serve with a side of vegetables or salad.
For more details on Glucerna, go to glucerna.com.au
You can have small bite sized ones for parties, snacks and to take on picnics. They freeze very well.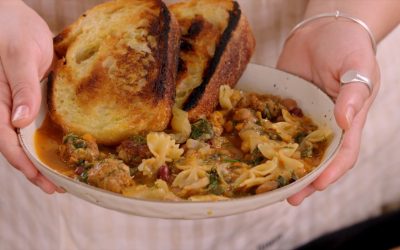 Ingredients: 4 Spicy Italian Sausages Packet of Farfalle Pasta 1 Leek 1 Carrot 1 Onion 2 Garlic 2 cups Shredded Cabbage 1 Chopped Silver Beet 1 400gm Tinned Beans 1 tsp Cumin powder 1 tsp Coriander  powder 1tsp Paprika powder 2 tbsp Tomato Paste Stock of your choice...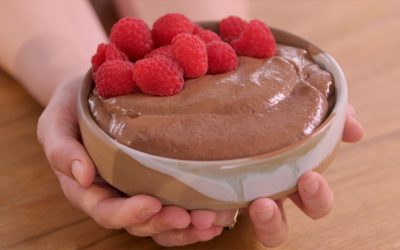 Ingredients: Plant-based milk Chia seeds Cacao powder Maple syrup Vanilla extract or paste Method: Combine all of the ingredients in a high-speed blender and blend until smooth. If you prefer to eat the seeds whole, you can skip the blender and combine the ingredients...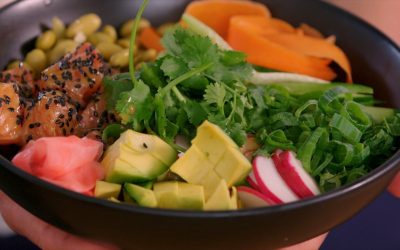 This recipe is brought to you by our friends at Healthy Life.Ingredients: 2 salmon fillets, skin off 1 cup edamame beans, frozen and blanched  1 Lebanese cucumber, sliced thinly 1 carrot, ribboned 1 avocado, diced 1/2 bunch spring onions, sliced 1 cup cooked brown...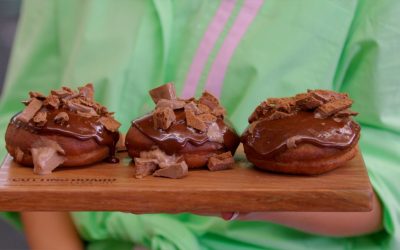 Ingredients: 7 gm (1 sachet) dried yeast 360 gm plain flour 55 gm (¼ cup) caster sugar 150 ml lukewarm milk 40 gm softened butter 1 egg 250 gm milk chocolate, finely chopped 190 gm crème fraîche 70 ml pouring cream For deep-frying: vegetable oil 3-4 Tim Tams, coarsely...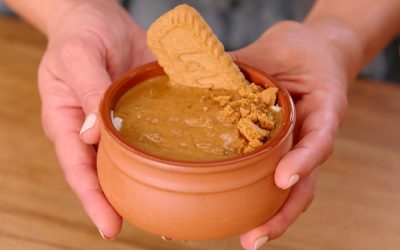 Ingredients: 4 cups full cream milk 1/2 cup medium-grain rice 1 + 1/2 cups of water 1/4 tsp salt 1/2 cup caster sugar 2 tbs heaped tbsp cornflour 1 Vanilla bean or 1 tsp vanilla bean paste Traditional topping option Greek Cinnamon to dust the top Or Lotus Biscoff...
Ingredients: 1 very ripe banana (about 120g) 3 eggs, whisked 20g scoop vanilla plant-based protein powder 2 teaspoons of maple syrup 70g (1/2cup) quartered strawberries 1 tablespoon tapioca flour 1 teaspoons extra-virgin olive oil Method: SERVES 1 Place your banana in...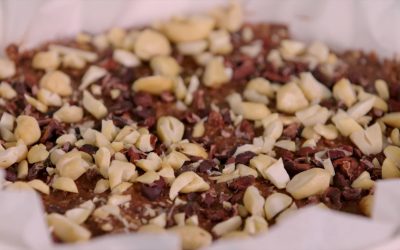 This recipe is brought to you by our friends at Healthy Life. Ingredients: 2 Bananas 300g of raw Cashews (unsalted & unroasted) 6 - 8 Pitted Dates 2 tablespoons of Cinnamon powder 2 tablespoons of Raw cacao powder  Cacao Nibs Pinch of Salt Method: In a food...